"I Will Rise" lands at #1 
We are proud to announce that after nearly 2 months of climbing Detroit's SpiderWebRadio Top 25 chart, "I Will Rise" reached the #1 spot, where it sat for 2 weeks. 
SpiderWebRadio spins an eclectic mix of artists regardless of their popularity or affiliation with record labels. It has been an honor to be included with bands which have influenced us for decades such as AC/DC and The Black Crowes. Other random SpiderWebRadio playlists our music has been placed in rotation on include bands such as Collective Soul, Foo Fighters, and Alice Cooper.  
While it's not the Billboard Top 100, we could not be more elated to sit atop this list.  
Much thanks to Al & AC at SpiderWebRadio for their support and to everyone who has streamed and shared our music.
Goodbye 2020! 
Hello everyone. Happy New Year! 
While 2020 was quite a thorn in our collective sides, it was conversely an incredible year for Sonic Fuel. We released 3 singles & videos which got more exposure than we could have imagined. 
Here are the most recent developments; 
* "I Will Rise" cracked the SpiderWebRadio Top 25 on December 11th. On the December 25th chart, it was proudly sitting at #17 amidst such bands as Greta Van Fleet, AC/DC, The Struts, Blackstone Cherry, Alice Cooper and The Pretenders. What an honor as an Independent artist to be charted with some of the best bands in the world. More updates; 
* "Scream" was nominated by What's Happening Music's for Best Hard Rock song. It was featured in their 2020 "Best of" playlist. 
* "Karma" was the featured track on Electric Storm Radio for the week of December 13th. 
* Real Knoxville Music is about to begin airing all 3 of our singles. David will be in the studio soon for a full-on interview. 
Due to some health issues which need to be 'shored up', we are going to hold off on more singles/videos until later on in the year. We will post more exciting updates as they develop. 
Hopes for a true album release concert remain, and our fingers are crossed that we will soon be back to a state of 'normalcy' for such things as live concerts and music festivals.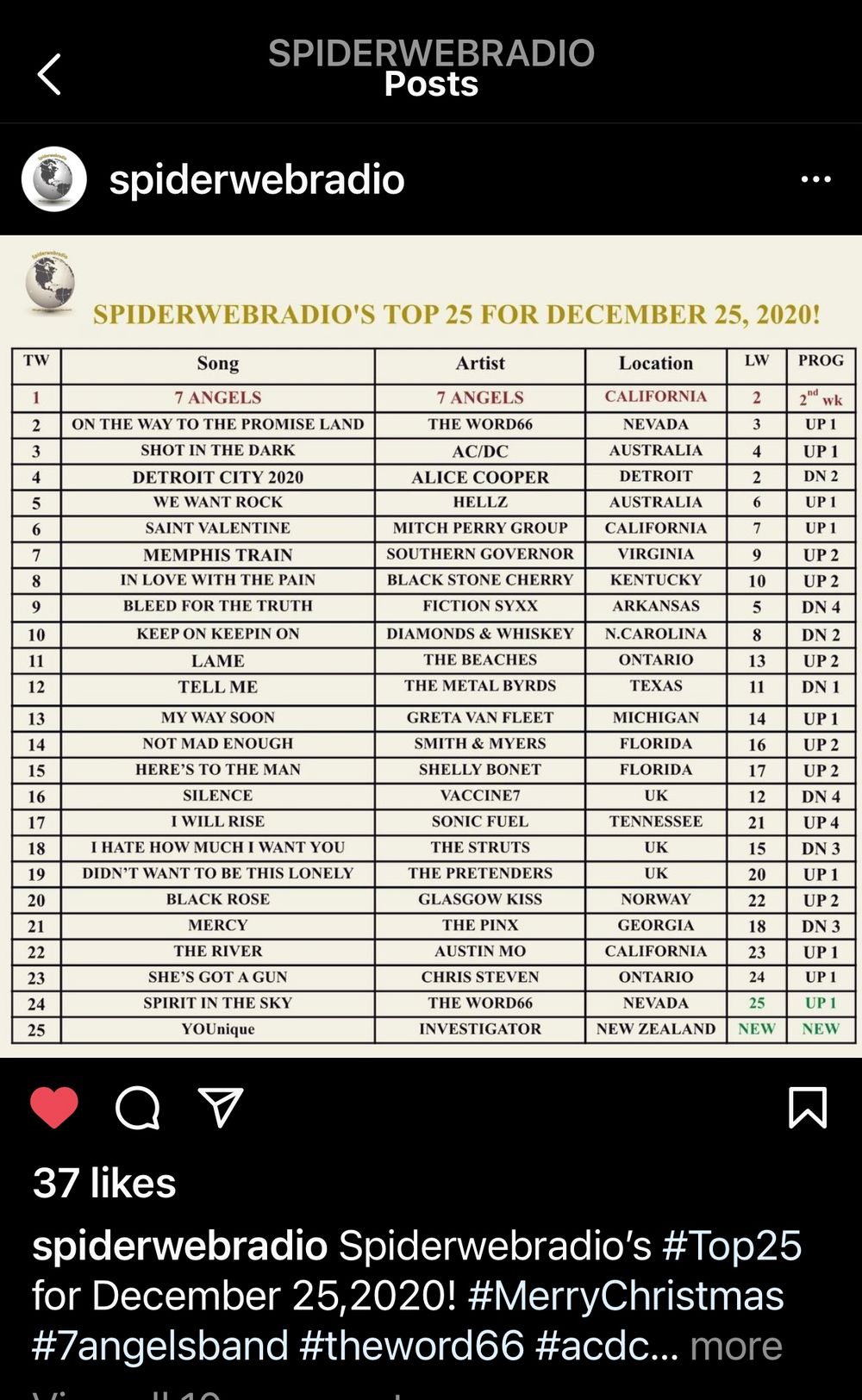 "'Karma' is Rock dynamite!" Aupium.com
"With 'Karma', Sonic Fuel pumps out visceral Rock, chock-full of clotted guitars, a swagging rhythm & David Hales' ferocious voice." TATTOO.com
"Karma" News
 Not even 2 full weeks after the release of "Karma", the tune has been well-received by Bloggers, Rock Journalists, and Spotify curators. Already, the song has been streamed by over 10,000 listeners and is on 38 different playlists. We appreciate the support, the kind words, the shares and the votes in various Radio contests. 
Stay tuned for the official video, due for release in less than 2 weeks, starring a 10 year old young fan of Sonic Fuel; "Little Donnie"...
VENTS Magazine writes: "[Sonic Fuel] has returned with a vengeance, a relentless rhythmic assault coupled with angst and raw power. The lyrics go just as deep, with the center being about abuse – both personal and societal – their single "Karma" delivers the karma to all their critics."  See below for full review:
https://ventsmagazine.com/2020/11/03/single-review-karma-by-sonic-fuel/
"Scream" Picks Up Steam 
Hello Rockers! After just 2 months, our 2nd single "Scream" has seen some serious airplay in many parts of the world. The video has over 54K views on YouTube and over 100,000 views (not a typo) on Facebook. While we do not have a complete list of the stations who were kind enough to spin it, we want to recognize the ones we're aware of, and say THANK YOU!  Please pardon the long post, but we appreciate our supporters!
Idobi Radio (USA)  | 9 Radio  |  2BBB (Australia)   |  5 Towns Radio  |  abbey104  |  Access North West (USA)  |  AccuRadio (USA) 
AM Rock  |  Artist Controlled Radio  |  Atlantic Radio  |  Beverley FM  |  Big Ear Radio  |  Blast 1386  |  Power Radio  |  Blunt Radio 
Campus FM (Germany)  |  Chippenham FM  |  City Beat 103.2fm  |  Code Zero  |  Colne Radio  |  Control Radio  |  CSR FM 
Derby Radio  |  Evesham Hospital Radio  |  Fish Creek Radio (USA)  |  Flame CCR  |  goQradio 102.9fm  |  Hits Online 24 
IMC Radio (USA)  |  KB Radio (Canada)  |  KEUL 88.9 FM (USA)  |  Kultra FM (Germany)  |  Longside Radio  |  NEWMIX RADIO (Italy) 
Onyx Alley (USA)  |  Preston FM  |  Radio 112 (Germany)  |  Radio Bicester  |  Radio Deeside  |  Radio Horton  |  Radio Shepton 
Radio Universidade de Coimbra (Portugal)  |  Redroad FM  |  soundafair (Germany)  |  South Leeds Radio  |  Switch Radio  |  Takeover Radio 
tam fm (USA)  |  The Flash  |  The Vibe  |  Urban City Radio (USA)  |  Way Out Radio  |  WCR FM (NZ)  |  WIHC (USA)  |  WLFC (USA) 
Work Rock Radio (USA)  |  WUTK 90.3 FM (USA)  |  WWYO AM (USA)  |  Radio Broadstairs  |  Metal Mayhem Radio  |  Kelham Radio 
Prospect Radio  |  K107 FM
More Reviews
 "Anthemic, tuneful tracks that are heartfelt and dynamic." Jen Dan, The Record Stache
"There is a hypnotic grit to it, as Sonic Fuel offers mantric phrases that are self-powering." Aupium.com
"'I Will Rise' has accessible exhilaration, one that will certainly appeal to fans of the radio-friendly Rock niche." Mike Mineo, Obscure Sound
"Robust vocals unabashedly emoting while power chords thrum and disintegrate into melody brings reminders of Foo Fighters." Newsickmusic.com 
"Scream" Update 
The release of our first Hard Rock single has been quite exciting, as we are feelin' the love from fans and radio stations alike. 
The C.O.A.R. Radio station played it for 6 weeks consecutively. We've been featured in The Netherlands, Australia, Nashville and all over the U.K. 
We've also been in good company with such bands as The Killers and Alter Bridge. This is quite surreal to us, as Alter Bridge has been one a major influence since 2004. 
As far as the video is concerned; The official Facebook video has over 90,000 views and over 80 shares. 
We appreciate ALL the support from everyone as we slowly continue to release our music out into the world. 
This is the latest playlist from The Sound Lab>>> https://www.thesoundlabradio.co.uk/
"Scream" Official Release 
On August 17th, 2020, the Hard Rock anthem "Scream" was officially released. The track is already being aired on radio stations in the US & the UK. The video will be released on August 24th. It entails powerful imagery and news footage of past and current events; some of which are disturbing and unimaginable. These things would cause anyone with a soul to scream (literally or figuratively) in a state of rage. 
You can give "Scream" a listen at the bottom of the site or you can stream & download it on any music service platform.  
"The World I Know" Acoustic Cover 
This week, we broke out the acoustic guitars to perform a tribute to songwriter E. Roland of the poignant song he wrote about the state of society. E. Roland is without question, one of the best songwriters of our generation who belongs in the Rock & Roll Hall of Fame! You can find it in the 'Video" section of the site.